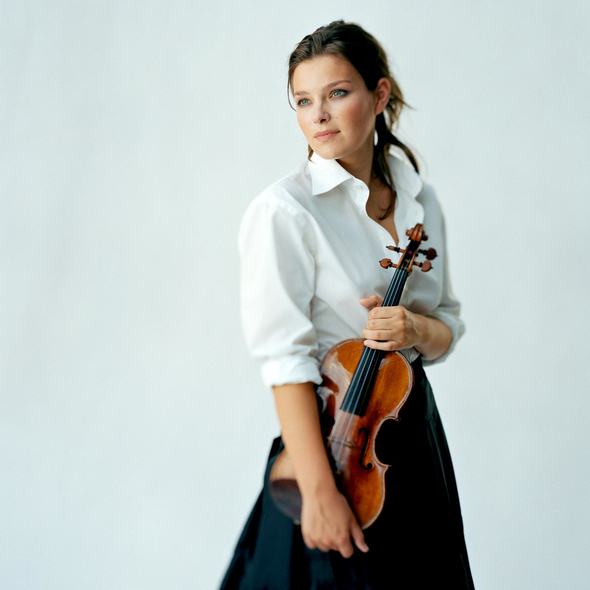 Cute Girls Playing…violins?
I've been on a minor classical tangent of late brought on by a couple drive-time listenings to the superior classical DJs at AZPM Classical. These guys know their stuff. Anyway, one night they get on a violin and cello roll and oh man do I love strings. They're playing some Paganini and Shostakovich and I'm in love, so I roll a Pandora station on Paganini. After a bit, Pandora busts out some Tchaikovsky, Violin Concerto in Dmaj, and I started weeping, openly, on the spot. I go to find myself a "definitive" recording of the work to place on my iPhone and by a strange fateful twist, iTunes is suggesting I might like Tchaikovsky: Violin Concerto as recorded by Janine Jansen. I don't know how they know. I haven't purchased anything from iTunes in a very long time, I don't even have any substantial classical in my library. I think this is how fate works. So I check it out and not only are the recordings stellar, this girl is just beautiful. It's like some kind of cosmic nexus of kismet. So anyway, iTunes Plus version comes with a bonus track, win win win, and now, here we are.
Janine Jansen is a phenomenal violinist. I am, by no measure, a seasoned pundit on classical musical technique and I readily admit that I have no substantial basis from which to draw any of these opinions. However, I've heard me some fiddlin' and this right here is some good fiddlin'. She seems to really nail the keystone emotional emphases in the pieces. I know that's kind of nebulous, but it's all I've got. I don't feel like she's trying to paint the numbers, I feel like she's trying to paint the picture.
Yeah yeah, I tried, ok? If nothing else, I've managed to take something as gravitas-infused as classical music and cheapen it with superficial commentary on how gorgeous this violinist is. She is quite the looker though, isn't she?
Souvenir D'un Lieu Cher, Op. 42 – Arr. Strings: II. Scherzo
Valse Sentimentale, Op. 51, No. 6 (Bonus Track)