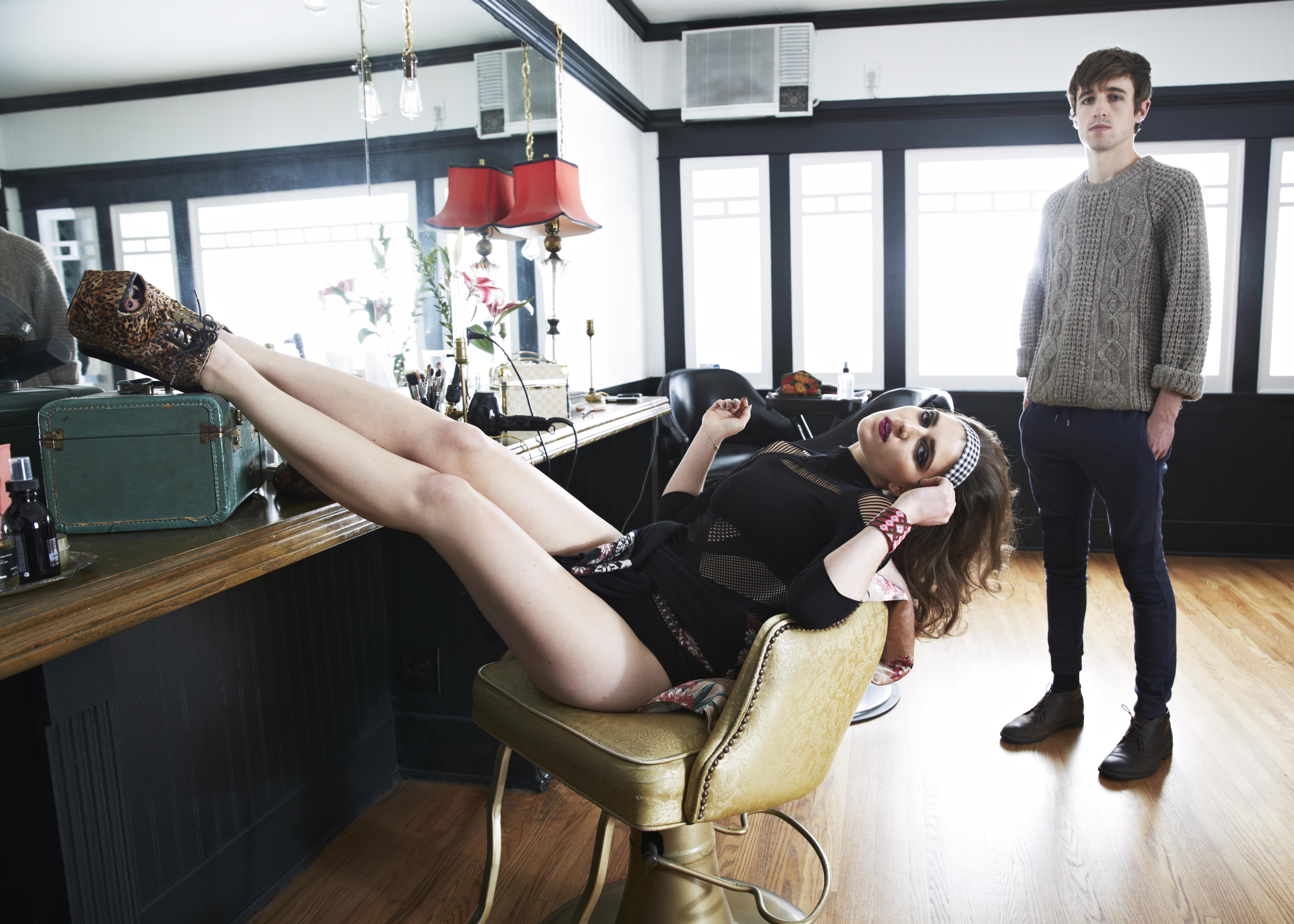 This here, this is something a little different.
How to describe HOLYCHILD's debut album The Shape of Brat Pop To Come… It's kind of like a dubstep beat truck driven by a disaffected, acerbic singer-songwriter crashing into a jazz factory that's rented its back room out as a nightclub? I guess? I…really don't know. They call themselves "brat pop", as titularly indicated, and I like that as a descriptor. There's definitely a thread of brat running through the whole thing, a sort of entitled "give no fucks" attitude that reaches from the lyrics through to the over-driven bass lines, and honestly that would be enough. If these kids were just making slick electro-dub pop and partying the party of youthe, that would be great and I'd listen to it like I listen to a lot of other cotton-candy music.
The thing about Liz Nistico and Louie Diller is they seem to pretty well think it's all bullshit. All of it. Virtually every song on this album is holding a giant middle-finger-shaped mirror up to some construct of modern fame and pop culture and asking sarcastically if it's fucking kidding them, cause it must be. It must be a joke cause it's just too funny. There's some pretty quality commentary in there if you're into that kind of thing.
Or you could just not. It's great music and the sheen is quite high, you could definitely think soft and simply get down with these sick beats1and ignore the deep stuff.
You could.
Here are a couple. I toyed with the idea of putting some of the harsher drags from this album up, but I think these two are good cross-over tracks against the kind of music I normally sling around these parts while still directing some of the HOLYCHILD shine your way. If you wanna get IN IT, you should listen to "Running Behind", "Plastered Smile", "Tell Me How It Is", "Barbie Nation" and "Money All Around". And while you're at it, really, just listen to all the others.
I'm gonna sneak in here and give you a pro-tip cause I've been there already: you need to let this album play. Some of these songs, I couldn't hear anything I wanted in them the first time I put them on but I'm telling you there's magic everywhere on this album. "Running Behind" starts off with a kind of dubby chopped-and-screwed aesthetic and then the chorus sneaks up on you with some, like, marimba? And melody? And then there's a bridge? I mean, it's just. There's a lot going on. Just, keep the faith.
1: Used under license from Taylor Swift, ShakeItOff Inc, 198 9th St NY, NY. It's Been Waiting For YouTM
Where to find HOLYCHILD:
Twitter: @holychild
Website: holychildmusic.com