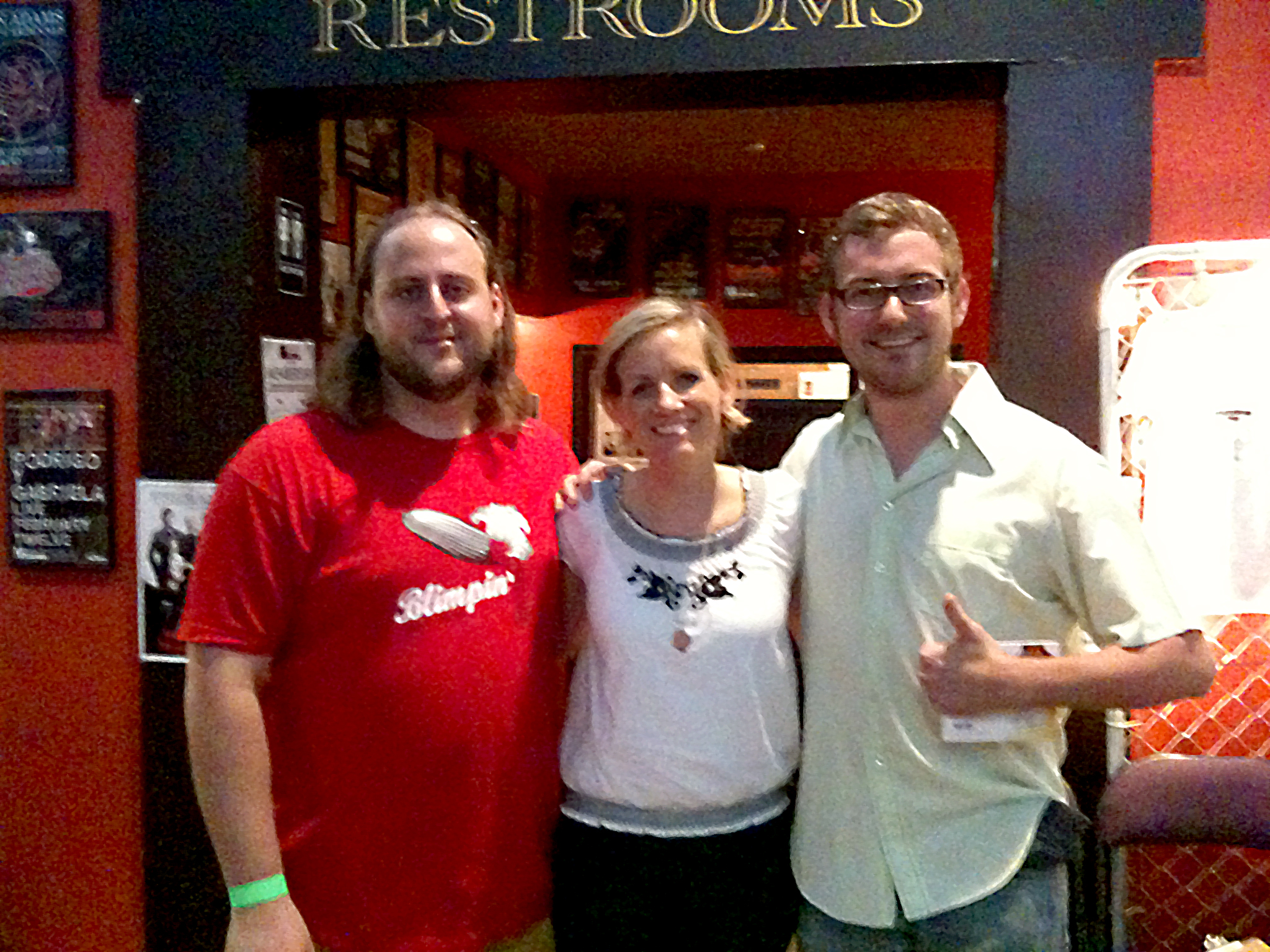 I'd like to start here with a short letter I'm composing to the Ringling Bros. and Barnum & Bailey Circus.
---
Dear Sirs and/or Mesdames,
I am writing to inform you that I do not believe that the Ringling Bros. and Barnum & Bailey Circus has claim to the title of "Greatest Show On Earth" any longer. I have just returned from a rock 'n roll show put on by Katie Herzig and Brandi Carlile and I believe that this show, by which I mean the musical masterpiece that most certainly could cure cancer if distilled into a serum, was, in fact, the "Greatest Show On Earth". While neither elephant trickery nor trapeze artistry were on display, perhaps the best executed live performance of music ever witnessed was. Considering the gravity of the situation I understand that you may want to verify such a claim, and I believe that attending any of the remaining tour dates wherein these artists are both featured will satisfy any concerns you may have. Thank you for your time and my deepest sympathy on the loss of your 138 year tradition of being the most spectacular thing a person could witness.
Regards,
Adam
Esq, DDS, LLC
---
Katie Herzig and Brandi Carlile are on tour together right now. Yes, at this very moment. If any of the following dates/locations are within the realm of reason for you to attend, I cannot recommend strongly enough that you do whatever it takes to secure a ticket: Sat, Oct 17, 2009 Wiltern Theatre – Los Angeles, CA
Tue, Oct 20, 2009 The Fillmore – San Francisco, CA
Wed, Oct 21, 2009 The Fillmore – San Francisco, CA
Thu, Oct 22, 2009 Arlene Schnitzer Concert Hall – Portland, OR
Sat, Oct 24, 2009 Paramount Theatre – Seattle, WA
Joe and I went to this show. I thought it would be a good show. They're both great artists, they're both on the Top Five CGPLS Albums of All Time (Apple Tree and The Story). I hadn't done any particular study into the quality of their live shows, but Brandi Carlile is made up of something similar in effect to cocaine that I would call intimate energy, and not one person, anywhere, in any sense, is doing what Katie Herzig does with music, so hey, sign me up, you know? A quality way to spend a Friday, right?
Let me just go ahead and tell you what my revised version of Heaven is.
Katie Herzig, THE Katie Herzig, comes out on stage. She does a set of assorted tracks from her albums. She is magnificent in every way, witty and wry between songs, pitch-perfect and on-the-ball beyond any expectation I could have. She's true to the recordings but slides in some subtle-yet-welcome modifications that make this live show something unique and precious. Her band is a shining pillar of perfect accompaniment, Claire Indie overwhelming my heart with cello mastery and Jordan Hamlin effortlessly riffing on a half-dozen instruments. I think to myself, what a great idea it was to come to the show tonight. Who needs Brandi Carlile when Katie Herzig is this good? When they finish, I'm a little sad, cause I'm of a notion that I could listen to Katie Herzig and Co. play live for all eternity.
Then five people stroll out of the darkness into the front-center of the stage and crowd around a single microphone. It's Brandi Carlile, and she's brought friends. They proceed to throw down an immaculately done multi-part harmony and literally blow my mind right out of my left ear. They then tear the house from its foundations with wildly energetic and enthusiastic renditions of old favorites and new classics. My mind, which I have picked up off the floor and replaced, is now back on the floor. I decide to just leave it there.
Then she stops. The noise dies down and she walks around her microphone to the edge of the stage and asks us if it's ok for her to do a song unplugged, as if we were doing her a favor. She then does that. In a massive room filled with people, her band rolls up with acoustics and she just does it. The crowd is stunned. Her voice is angelic. Two terminal patients near the front of the stage are spontaneously cured. The house is miraculously rebuilt by the unbridled quality. They return to their plugs, but stick with the acoustics and knock down a set of songs in a wonderful stripped-down, raw-materials style that showcases everything that makes Brandi Carlile and her band the highest caliber of musician. The crowd is powerfully moved and I have already begun forgetting even the most intimate details of my life in order to more perfectly remember the wonder in front of me.
But Brandi was apparently unsatisfied with the current status of the house, and so she retrieves her electric guitar and tears it back down, leaving all of us standing, stupefied, in the ruins. Parts of the crowd begin ascending to a higher plane of existence as their corporeal forms are replaced by pure happiness. Those of us who remain, though, are soon called upon. Brandi can create not only with her own hands and those of her band, but with ours as well. She divides the crowd into three groups and teaches us three-part harmony. We learn and represent ourselves well. It's wonderful, she's wonderful, life is wonderful. She thanks us and leaves the stage to thunderous applause after evaporating an adjacent building with "The Story".
The crowd begins the ancient rites that summon The Encore. The cacophony is sufficient to bring her back, but she returns as The Woman in Black and lays down two brilliant Johnny Cash covers, including a no-holds-barred, take-no-prisoners, other-cliches-as-well "Folsom Prison Blues" that razes even the ruins of the house clean and salts the Earth where they had lain. Standing now in raw nature, she does a number of further hits including a gorgeous solo take of "That Year" that makes hearts in the room grow by up to three sizes. I am, at this point, a husk of a man, consumed entirely by the magnificence, content if my only further purpose is as a memorial of this event left on site that pilgrims may know where homage be paid.
And then. She calls Katie Herzig back on stage. Katie Herzig brings her entire band. There are now two, count 'em, two cellos on stage and what faculties I have left cause me to begin weeping, openly and without shame. The Katie-Brandi super-band takes off on "Wish You Well" and whatever in any of us that was not blissful is made so. Katie and hers leave the stage, along with most of Brandi's band. Brandi moves over to the piano and, along with her cellist, begins a tune. It sounds familiar, but I don't recognize it immediately. "All around me are familiar faces, worn out places, worn out faces…" She's covering Mad World. By Tears for Fears. It's happening right in front of us. It's HAPPENING RIGHT IN FRONT OF US. Her version is unsurprisingly brilliant and it ends poetically with the cellist concocting a delay loop that allows them both to walk off the stage in its wake, in near darkness, Brandi stopping briefly to bow and wave.
Things I now have:
-A signed copy of Apple Tree and a picture with Katie Herzig as seen below
-A ticket stub signed by Brandi Carlile
-A right hand I can never wash again as both Katie and Brandi shook it
-The knowledge in my heart that I have seen and heard what must be seen and heard by all people as an affirmation of life
-Serious desire to see Brandi Carlile and Katie Herzig again, together or separate, as many times as possible
Live music is this good, everyone. Go see a show. This show if possible, but any show is better than nothing. I'm not including any tracks with this post as I failed to bootleg anything from the festivities. I'm pretty positive that no earthly recording device could capture the transcendent perfection of this show anyway. I'll have a field report on Give Up The Ghost, Brandi's newest album, in the next several days and also, hopefully, a post about Katie Herzig's newest release, Acoustic Trio. Until then, you can find me standing in the smoldering hole where The Rialto Theatre previously stood, wracked with euphoria, immovable against the powerful bliss that holds me there, a silent, unnamed sentinel known only as The Witness.